Hello Stranger,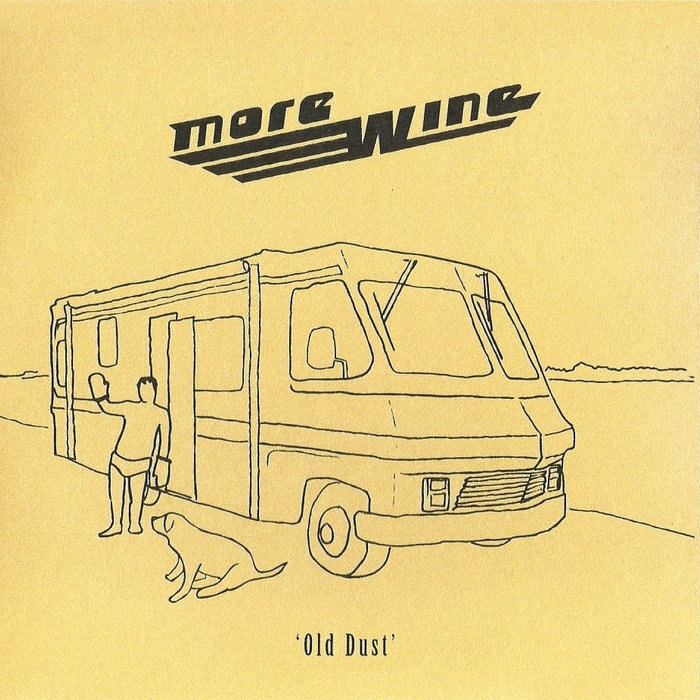 This week is the last proper review week and post of 2016. So, to end it all, sort of, with a bang its Morewine and their EP Old Dust. This was released September last year and was a bit of a hit among the indie pop-rock community selling out of the EP on CD very quickly. Originally a solo project of Lead Singer Mathew McNichol, Morewine developed into a 4 piece with influences from artists such as Unknown Mortal Orchestra, Thin Lizzy and Steely Dan. This EP is full of sunset drive and good time vibes and really brings a little bit of sunshine into your life. Especially now as its officially winter and all.
The first track on this 6-piece EP is called Muscle Mania. This is a rather happy going intro that just instantly puts you in a good mood with its little chimes. Whether it was meant to be an introduction or not it certainly fits the bill. Its short, snappy and to the point with a constant little beat that runs through the whole thing. I have to say this is what got me hooked onto this EP as its psychedelic but with a small hint of more modern twists every now and then which give it that small bit of oomph.
Following on from that is All The Time. This takes the tone right down low and slows every little thing down. Floaty lyrics and good time vibes make this song something else. Along with a few kick ass but strangely calming guitar solos which don't seem to overdo the song at all. In theory, maybe but in practice it just makes the whole track that much crisper. The crispness also comes from the steady beat kept throughout which adds that spice that it all needs. It is a literal recipe for perfection in my eyes and has to be one of my favourites. The lyrics also seem to makes this track that much more seamless in performance and production.
Now if you though that last tune was relaxed, it has nothing on track 3, Never Thought. Channelling old school beach vibes from way back when it really does send you off to dream land whether you like it or not. It's got screeching guitars and wispy vocals that end up all being one noise at the end of the track. Although the lyrics are simple and easy to pick up on they somewhat make the song what it is. A little different and a bit on the quirky side with a helping of rock. However, this is only towards the end as at the start its as chilled out as anything with slow beats and fairy light sounds. Its defiantly up there with one of the most chilled out songs going.
Track 4 brings with it Half Way Out Of Time a more upbeat and I want to say jazz filled experience of a tune. It's the one track that you could get down to with your friend's late night in the dark purely intoxicated with whatever poison you wanted just fading into the night. It not only creates that vibe in your mind but also makes you feel it from deep within your dormant party soul. Along with this its lyrical and guitar ups and downs also make for a beautiful ride full of originality. As I have said before every EP or album has to have a dance or upbeat track no matter how dark the artist wants it all to sound. This my friends, is it.
Onto my favourite track of the EP, Can't Sleep with its throw you in the deep end and see how you get on attitude. It's like going to your first massive house party where you don't know who's hosting it or who's even there your just here to have a good time and not think. The whole meaning behind the song is something completely different but art is up for interpretation by its receiver so make up your own mine my friend. Another thing I love about this track is every time I listen to it, something else stands out for me. Sometimes it's the lyrics/vocals and other times it will be the drums or the guitar or even the bass. It's such a good track.
Finally, to top it all off its Fake Meat. This is the shortest track on the EP and is more of a 'disco' and 'techno' tune which I feel rounds the whole thing off nicely. Every track seems to be completely different form the one its followed and that's what excites me about Old Dust.
Overall this EP is something for everyone. It's got rock it's got techno it's got dream pop and its even got beautiful lyrics to go along with it all no matter what genre the song falls under. I've not been listening to Morewine for long but I would highly recommend them to any living soul out there who is in need of some fresh tunes from a fresh band.
–
Buy the EP here: https://morewine.bandcamp.com/
–
–
Charlie
–
All images found from Google Images, No copyright infringement intended