Hello Stranger,
It is almost the end of this not so spooky month called October and I bring to you the sounds of my October. It has been full of a variety of sounds, immense traveling and many gigs which I never went to. Bare Knuckle Parade performed in Bath at Moles for the second time this year but it was on the same night as Lonely The Brave who were performing at the Marble Factory in Bristol. So, I went to none of them as I couldn't pick. As far as I heard they were both amazing gigs. Another gig which I wasn't able to go to was Mystery Jets in Bath. I have seen these guys before and let's just say I was kind of sad that I wasn't able to go. But if you're around Bristol area 27th October (tomorrow) go and see Field Studies as I will be too! They are playing at The Crofters Rights and its bound to be an amazing gig with supports from IAOTU and Sam Gallop.
5) Twenty One Pilots – Blurryface
The start of this month started out with the rediscovery of this amazing album in my CD rack. Blurryface is a real classic album and is full of one amazing tune after another. There isn't one song on this album that I don't love! Its continuous flow of upbeat and power hungry tunes really gets you going no matter your musical tastes I would say. I would say for me that this is definitely a go to album when I have no idea what to listen to due to its shear variety of sounds within the same alternative rock based genre. Picking a favourite song on this album is really difficult as it changes pretty much every time I listen to this album. Stressed Out, Ride and Fairly Local have all been my favourites at some point but right now it has to be Tear In My Heart. It is such a happy feeling song yet still has that typical Twenty One Pilots sound to it. Singing along to this song late at night with all you friends is possibly one of the best feelings in the world.
4) Lonely The Brave – Things Will Matter
Ahhh, Lonely The Brave is another band that will always be my favourite no matter what. This album is no exception and I did review the single Black Mire when it came out. Little did I know that a much shorter while later Things Will Matter was released and it was everything I wanted in a Lonely The Brave album. It has power, punch and so much emotional meaning which is several reasons why I love them as a band and this album as well. A while back I reviewed my favourite album to date A Days War which I have to say is still my favourite, as good as this one is. The tune I do really love from this album though has to be What If You Fall In. It's such a gentle sounding song to start with full of wistful sounds and some intense sounding guitar which is one of the reasons why I think they are so amazing. Emotionally this song really does hold a lot of power over the listener and gets to you if you let it. Power in this song makes the meaning stand out.
3) Bon Iver – 22, A Million
Now I have been a small Bon Iver fan for a while and I love his For Emma, Forever Ago album. So, trying this album out was a bit of a push as its very different to want most are used to. Some would say they prefer this album but others, like me, prefer his older stuff. However, this more modern and electronica sounding album really fits with the more modern chart music and throws the general concept of music out the window with its dashing musical ways. I have to say however I'm not really a fan of many of the tracks on this album so picking 22 (OVER S∞∞N) as my favourite was not difficult. I would say that this song has a very dream pop aspect to it which I really love. The vocals really do sound like a completely different instrument to what they would normally sound like. This gives it a whole new spin along with the occasional guitar strum which gives a hit of the last album. 22 (OVER S∞∞N) is so complicated in sound that it sounds so simple at the same time. It is simply a perfect little song.
2) Alt-J – An Awesome Wave
Alt-J is a band that I have only just got into properly this month. Left Hands Free came on shuffle on my phone and forgot how much I loved it so I went digging for more music by these guys and started listening to this album. An Awesome Wave is full of passion, fire and prevailing drums; and that goes for every song by them on this album. I have to say I haven't listen to it much but I do really really love the song Breezeblocks. It has such a dark meaning behind it and is full of stories. Chimes add a more innocent feeling to this song which don't cover up the more mysterious aspect of this song. It really is a song full of what Alt-J so best and represents the album pretty well. One word can be used to describe this song and that is; stunning.
1) Bear's Den – Red Earth & Pouring Rain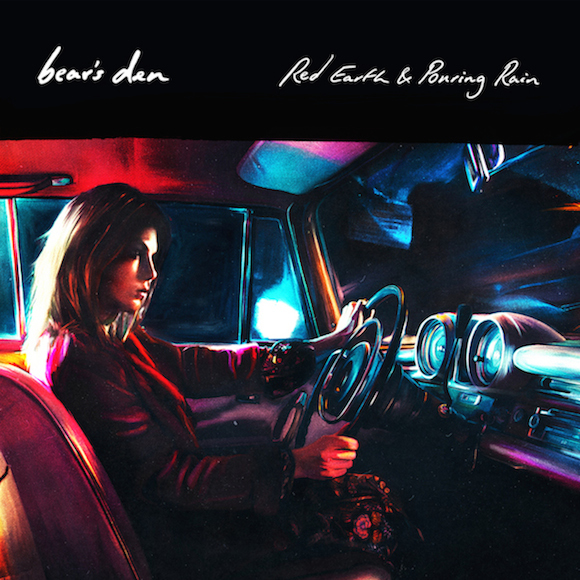 At the top of my not so spooky list for October its Bear's Den's new album that was released earlier this year. Now like many diehard fans of these guys when the single, Auld Wives came out it was something completely different to their last album Islands. This more electronic version of the band made me a little worried as I really loved the whole folk vibe these guys stood for. This electronic version really did put me off a bit but after a while it has grown on me quite a bit a now this album is almost up there with Islands. My favourite song, however, was rather hard to pick as I wasn't a big fan to start out with. BUT it has to be, for me, Emeralds. This style of song really gets going and still holds some of the older vibes that Bear's Den started out with. You can still hear the passion and meaning in his voice. It also still has that acoustic guitar in the backing track which I love as it keeps the song near the roots of where they started out.
–
Buy the albums here:
5) Twenty One Pilots – Blurryface:  http://twentyonepilots.warnerartists.net/uk/blurryface.html
4) Lonely The Brave – Things Will Matter: https://www.musicglue.com/lonelythebrave/category/things-will-matter/
3) Bon Iver – 22, A Million: http://boniver.org/store/uk
2) Alt J – An Awesome Wave: http://store.altjband.com/uk/music.html
1) Bear's Den – Red Earth & Pouring Rain: http://www.bearsdenmusic.co.uk/
–
–
Charlie
–
All images found from Google Images, No copyright infringement intended