Hello Stranger,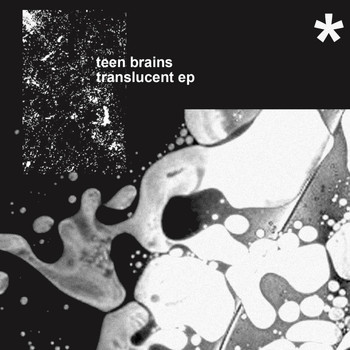 Today I present to you Teen Brains. Another epically named band with epic music. These guys dropped an EP on Monday 12th for both digital and cassette release via Witchgirl Recordings and Citrus City Records. This was so that they could release it in both the US and UK, which I rather clever. For Witchgirl Recordings it was their first ever release so this EP gets the fabulous crown of WG001 which is pretty cool.  This little EP was also written and recorded by Teen Brains themselves which only adds to the delight of listening to Translucent over and over again. As this shoegaze dream of an EP isn't truly appreciated until its repeated a couple of times.
Track one is In A Haze. Its dramatic and punchy to start with and there is no shoegaze to be found then it all turns up at once with just a couple of guitar strings and strategically placed drum hits. Then the drones of vocals kick in which finishes off the whole psychedelic vibe they are going for. The most punk based vibes do come back into it and are always there in the background which helps give In A Haze a whole different take on the conventional concepts of shoegaze. It really sets the EP off to a fabulous start. The way it ends add an edge to the next song making it more punk orientated than first thought.
Next up after In A Haze is Isolation. This for me is a more traditional version of a psychedelic track which brings the tone right back down. A steady beat with thought provoking guitar solos mixed with very free flowing vocals. This combination really gives for a unique almost art filled sound that is sung with a lot of passion with a hint of deeper feelings. There is a lot of power is a simpler sounding song like Isolation and for me it is one of my favourites. The emotions run wild within the veins of this song. It has the ability to make you feel very free flowing and psychedelic.
Track three brings along Wash Away which brings the tempo back up to the top. It has a faster paced feeling and up beat guitar that is dripping with confidence and feeling. For this track they really get into it and push the genres they've gone for to the limit. You get the feeling that they are holding back their guitaring and drumming abilities and trying to stop themselves from turning a fuzzy track into punk. This is what grabs me and makes me want to listen to it on repeat. It seems like a completely different song each time but strangely familiar. I would defiantly say it shows off their talents well.
To finish up this little EP is the song I first fell for from these guys, track four. Translucent has the ability to help me concentrate and get things done. Yet is able to send me off to sleep in a flash. It's such a lazy song full of stretched out guitar riffs and day dreamy vocals. Its smooth and filled with all sorts of psychedelic and shoegazed goodness from the click of a play button. This is defiantly my favourite song on the EP followed closely by In A Haze. Both these songs showcase the talents the guys have and how they make such calming music so seemingly effortlessly.
Overall this EP is one for the calm lonely nights when you've got nothing better to do other than play cassettes all night long. Translucent both sticks to the classic sounds and makes up its own rules about the whole genre of psychedelic sounds. I have been listening to this EP non-stop when it came out on Monday because it's just so repeatable. No song truly sounds the same when you listen to it over and over again. It is nothing less than a masterpiece.
–
Buy the album here: http://witchgirlrecordings.bandcamp.com/releases
–
–
Charlie
–
All images found from Google Images, No copyright infringement intended