Hello Stranger,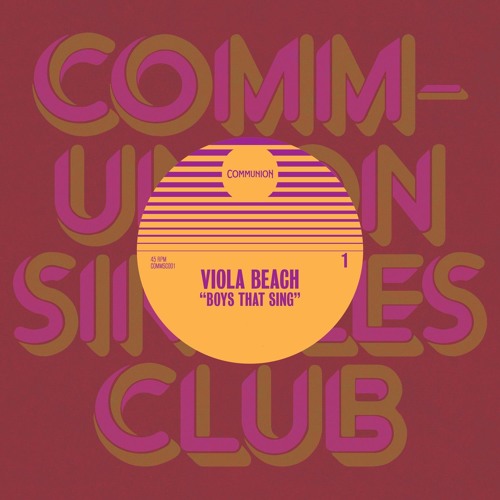 Whoa, yeah I know that I am posting on Fridays again; a bit. I honestly find new music and instantly want to write about it and when I write something I instantly want to post it so you can read it. so today's Friday special is the new release from Viola Beach and two singles they released today (when this post was put up)! These are Boys That Sing and Like a Fool. I had been waiting for some new tunes from these guys for a while and was really happy when they announced that a new track would be played on radio one during the week. I love it when bands release 'surprise' songs as it adds jeopardy to the whole 'I'm going to release a new song' thing. Creative ways to release and promote music is the best, in my opinion.
The first single from the singles album that I am going to go over is track one of two, Boys That Sing. I listened to this song on the Huw Stevens radio show and oh how I loved it! My instant thoughts were how sweet it was. It has that cute playful guitar at the start of it with the unusually, in a good way, heavy drums. I knew it would be a fabulous and creative song as soon as I heard that starting part. Then it all kicks off with a steady heavy beat and catchy as anything lyrics. It's all about one girl being many different things to one person and I really do love it. It has meaning and purpose and foot tapping beats. Yet it has that Viola Beach sparkle too it with the almost oriental instrumental parts in it. I really love songs that have an oriental feeling and sound to them as it adds to what the artist is trying to get at. Boys That Sing, I would say, is another Swings & Waterslides with a difference. Its catchy, upbeat and has a sort of Mounties spin to it with a Rain Maze splash in it. yet it still has that typical, wrong but right word to use, Viola Beachy vibe and theme which I absolutely love.
The next song on this two song single is track two of two, Like a Fool. I didn't realise, until today, that they were releasing two songs. I thought it was only going to be Boys That Sing. So when a dear friend of mine said that It was a single, I couldn't wait to get it! Like a Fool is the perfect accompaniment to Boys That Sing as it's still kind of fast pace and catchy yet it's different in a really fancy musicy way. When I listened too it first I thought this is such a good song, really well done, fabulous lyrics and catchy beat and then it got to around 50 seconds. Everything changed and it went into a kind of 'break down' everything gets slower and then Kris (the singer) calmly shouts of love. It's rather unexpected and works so well! Then it all returns to how it was as if nothing happened, it made the song what it is and really tells you what they are capable of producing as artists. With the happy go lucky guitar, heavyish drums (I don't know how else to describe it), smooth bass and silky vocals with a sparkle they can't go wrong with this song.
Viola Beach are a fabulous band, that make fabulous music. From their first singles to whatever they make next it will be amazing for your ears to listen to. I can't wait for their upcoming album it is going to be the album of my summer I think. If it even comes out this year, which I hope it will. They just have this happy, simple and really sweet sound to all of the songs they have released so far and it is a pleasure to listen to them all. They are a band I recommend to friends all of the time and many people do love them dearly. So all I need to say is go read my review of their Swings & Waterslides single that started it all out for them. Then go get all of the songs, you won't regret it my stranger.
–
Buy the single here: https://communion.lnk.to/SinglesClub1
Read my Swings & Waterslides review here: https://redskyeblog.wordpress.com/2015/11/04/viola-beach-singles/
–
Charlie
–
All images found from Google Images, No copyright infringement intended